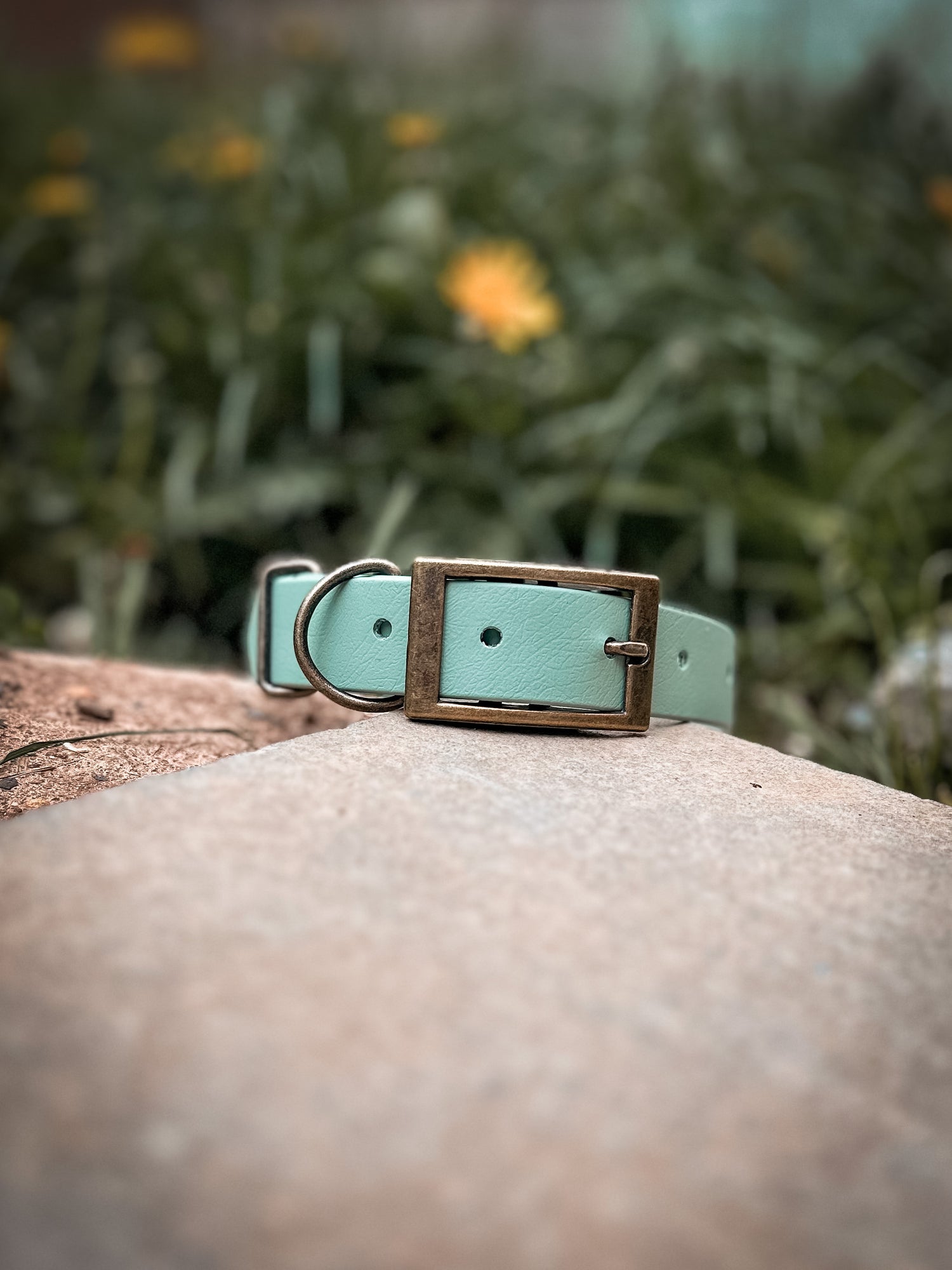 Sage Green Dog Collars
Shop our range of fully customisable Biothane Dog Collars.
Now available in new colours including Sage and Berry - Perfect for your dog's Spring/Summer wardrobe.
Shop Biothane Collars
Stylish and Durable Sage Green Dog Collars
Looking for a stylish, durable and customisable sage green dog collar?
Look no further! Our sage green dog collars are perfect for pet owners who want their furry friends to look stylish, whilst ensuring their safety and comfort isn't compromised. 
Choosing the perfect sage green collar for your dog is easy. Not only do we have a range of tips on
how to measure for a dog collar
 and choosing the right width for your dog, we also allow you to customise your dog collars in your choice of colour and style to create a unique dog collar for your pup.
Our sage green dog collars are made from Biothane - a waterproof, wipe clean and durable material - so they are built to last. They are available as classic, one colour collars, or customisable in your choice of extra colours to suit your dog's individual personality and style. We offer a variety of sizes to fit any dog, from small puppies and miniature breeds, to large and giant breeds. 
Unsure whether sage green is the right colour for your dog? We also have other green dog collars available, including olive green, hunter green and pastel green. What's more, we have a full range of
waterproof dog collars
, handmade in the UK, available in a whole rainbow of colours! There truly is something for every dog. 
Plus, we offer matching clip leads, training leashes and hands-free dog leads so you and your pet can look stylish together. 
When it comes to your dog, safety is always a top priority. That's why we offer a range of different collars, including quick release dog collars, so you can easily remove their collars in case of an emergency.
All our collars are made using strong and durable materials and hardware, ensuring they are made to withstand everything that every day dog life throws at them. 
Shop our stylish sage green dog collars (and more!) today and give your pup the gift of style and comfort.